A Night Divided by Jennifer Nielsen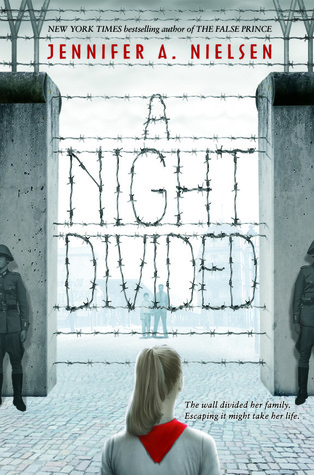 Set during the time of the Berlin Wall, Greta and her family is separated when her father and one brother are trapped on the west side while Greta, her brother Fritz, and her mom are trapped on the east. Longing to have her family back together, Greta rebels in quiet, subtle ways - until the day she sees her dad and begins to hope escape might be possible, through a tunnel she and Fritz plan to dig alone.
I love Jennifer Nielsen and her books. This was an amazing, heart racing, frantic story which left me on the edge of my seat.
This is the first book I have read my her which has the main character as a girl instead of a boy. I was sure I would like Greta because I trust Nielsen's characters, I was glad to be proven correctly. Greta had spunk and spirit but also caution. Her burning desire was to untie her family and she wouldn't let anything stop her.
I adored Fritz more than I can put into words. He was amazing.
I also liked how this story had a friendship side to it like Nielsen's other books. I always welcome a good friendship.
I cannot recommend this book enough and I plan to buy it soon so I can reread it.